*Starting in February 2023 we will meet at noon the 3rd Thursday every other month at Jamestown Golf Club.  
Caring for skin from inside out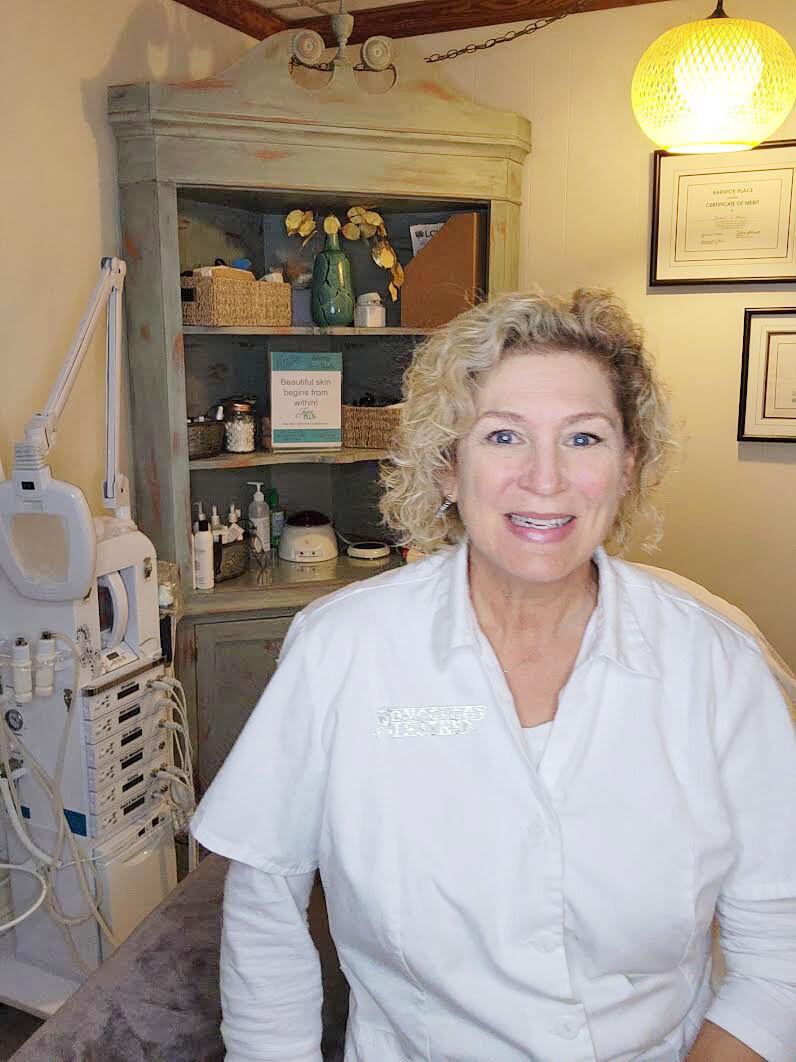 As a native of Jamestown, Jamie Hall has a heart for this community and as a business owner she wants to see the town thrive and grow. She is currently serving as president of the Jamestown Business Association.
Hall owns Emerge Skin Studio, which specializes in customized skin treatments to repair and balance the skin so it will function at its most efficient level. She also offers whole food nutritional products that support skin health.
"I had been in business since 1984 but took some time off to raise my daughter," Hall said. "When she was in school I was ready to start working again and thought what better job to have than helping people feel and look their best. 
"I love working with the public," she added, "and opened my skin care business in 2016."
Hall is paramedically and oncology trained so is able to work with and care for a wide range of clients, skin issues and overall wellness. 
"The paramedical training gives me the knowledge to work with skin treatments that will repair the skin," Hall explained. "The oncology training allows me to work with clients going through anti-cancer treatments and beyond, to determine what products and manual skin massage can and cannot be applied. It also helps me understand skin conditions that could arise from the treatments and how to treat them within my scope of practice."
Overall wellness begins from within so Hall has partnered with the international whole food nutrition product company Juice Plus.
"Juice Plus is the most clinically-studied product of its kind in the world," Hall said.
Emerge Skin Studio is located at 101 Gannaway St., #2, in Jamestown. Hours are by appointment only on Tuesdays and Thursdays from 8:30 a.m.-5 p.m., Wednesdays and Fridays from 10 a.m.-7 p.m. and Saturdays from 8:30 a.m.-3 p.m.
To arrange an appointment, call 336-577-0401 or email emergeskinstudio@gmail.com.
Massage benefits bodies under stress
After successfully beating brain cancer, Victoria Jones opened her business Under Pressure Massage & Bodywork in Jamestown. She is located at 101 Gannaway St. in the same building as Emerge Skin Studio.
"After cancer drastically changed my life I wanted to find a career I could manage while also helping others," Jones said. "I opened in Jamestown with hopes of making self-care more accessible. I work with my clients to heal the mind and body by inspiring relaxation and rejuvenation."
Because brain cancer affected her vision, Jones feels it has allowed her to pay greater attention to detail as she works with clients.
In addition to conducting her business, Jones is serving as vice president of the Jamestown Business Association and is a High Point University community partner.
"I am striving to make an impact on our community," she said.
Under Pressure Massage & Bodywork is open by appointment only. Contact Jones at 336-553-8380 or email her at underpressure.mb@gmail.com.
Jamestown Business Association
"Working to promote Jamestown businesses and
improve our community"
We are a group of businesses and non-profits whose goal is to bring positive attention and commerce to the local businesses of Jamestown. The JBA also sponsors several town event and awards grants to local non-profits and students.